Our Traditional Kids Karate Classes at 603 Karate Will Help Your Child Develop Mentally, Physically, and Spiritually
At 603 Karate, our kids karate program focuses on the development of lasting life skills that will help your child succeed in their scholastic and professional lives. Our students learn self-confidence, discipline, and smart goal-setting. Get your child started on basic karate skills and watch their eyes light up as they move from learning basic skills to awesome martial arts maneuvers! Fun games and exercises are a part of each class, so your child will grow, learn, and have fun all at the same time!
We start enrollment as early as 6 years old!
We're helping children from Tilton-Northfield, Franklin, Concord, and beyond create lifelong success using the fundamentals of Uechi Ryu Karate. Are you ready to kickstart your child's journey?
Simply fill out the short form on your screen to learn more!
Why Choose Kids Karate Classes?
The martial arts have a long and storied history of cultivating physical, mental, and spiritual growth in students. Here at 603 Karate, we've helped our members gain the self-confidence they need to pursue their dreams, learn the self-discipline necessary to turn those dreams into reality, and the smart goal-setting skills required to create sustainable success! We want to help your child learn that hard work pays off.
Karate serves as an incredible bedrock for learning transferable skills. When your child works toward that next belt, they're learning about themselves and about how to achieve their dreams, and they're doing it in an environment that's safe and supportive, with the help of positive mentors and great new friends. Whether you're here in Tilton-Northfield or driving up from Concord, join us at 603 Karate and see for yourself how amazing karate classes can be.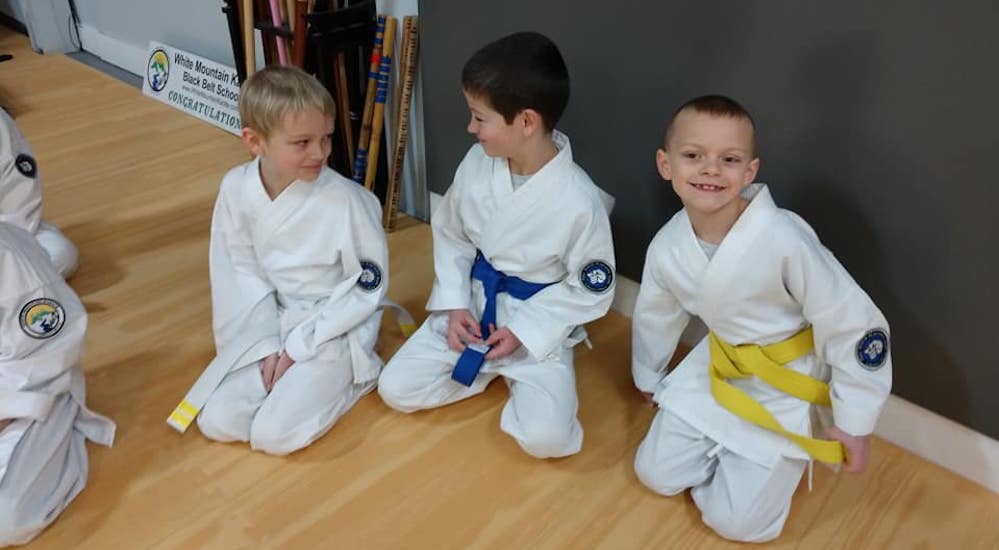 Our kids karate program can offer your child:
An unshakable sense of confidence
Improved focus and self-discipline
Goal-setting skills and perseverance
The value of compassion, courtesy, and respect
Plus Your Child Will Love Karate!
Aside from the wealth of benefits that come bundled in our kids karate classes, your child will also have tons of fun! Each class is active, exciting, and fun! Our classes are structured to include time for educational games and for your child to get individualized coaching. Your child will get started on lifelong habits of fitness, learning to love being active, while also gaining better hand-eye coordination and agility, gaining strength, and becoming healthier.
Join us at 603 Karate in Tilton-Northfield and help your child gain:
Improved hand-eye coordination
Increased speed, strength, and agility
Bully prevention strategies
Lasting habits of physical fitness
Join Our Kids Karate Classes Today!
Our mission is to help children from Tilton-Northfield, Franklin, Concord, and beyond acquire valuable life skills in a fun, supportive environment. Are you ready for a fun, dynamic way to help your child learn? The martial arts have culminated hundreds of years of wisdom, and 603 Karate is here to put a modern twist on ancient knowledge and pass all of that learning on to your child!
Simply fill out the short form on your screen for more info!